Finding a place where I can live my truth
My career story is a bit different from others you may read here because I came to Sodexo at the very beginning of my career as an apprentice. For the past 8 months, I have been working in the Diversity, Equity and Inclusion team and I couldn't imagine a better place to start my professional journey.
A truly inclusive company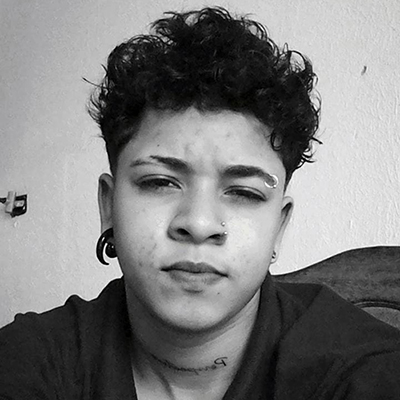 First of all, I believe that the work I do is so important. I really believe that companies can only benefit from having diverse teams. I can say that with conviction because it is something I experience on a daily basis. I am the first ౼ and for the moment, the only ౼ transgender employee at the HQ of Sodexo Brazil. Nevertheless, I have never felt like I'm on the sidelines, I feel part of the team. For someone in the LGBTQ+ community, this is priceless. I knew from my first day on the job that I had come to the right place. I received an email welcoming me to the company that simply said: "Dear Noah," ౼ my chosen name. My colleagues make a point to use the correct pronouns when speaking to me or about me. My brief experience in the workforce has convinced me of the value of something seemingly so basic to many, yet so essential to some.
Prior to joining Sodexo, I worked briefly in an auto shop where I painted and washed cars. The work was good, but I never felt like I could be myself or speak my truth without fear. Being a transgender person in Brazil is and was always a challenge with many barriers. Despite all of that, Sodexo has managed to create a workplace environment that is so inclusive that I no longer feel like a need to hide my true self. I feel safe here, which makes me better at my job.
Helping others find their place
I know first-hand that this company and the people working here value diversity. This fact makes my job all the more essential. As a young apprentice in the Diversity, Equity and Inclusion team, I work with local institutions that help young people find work. Whether I'm handling invoices and accounting, preparing webinars or coordinating communication between my operations department and the external institutions, the end goal is the same: helping deserving people discover their career path.
The people we work with are either young apprentices like myself or people from any other dimension of diversity ౼ all may encounter road blocks during their careers and it is our job to help them find a great place to work.
Before I started at Sodexo, I had my sights set on a career in acting, but now I am looking to do something with advertising or drawing/illustration. What I love about this company is that the opportunities are endless! Right now, I feel so lucky to have found my job and to be working with everyone on my team. And I'm just getting started. After my apprenticeship ends, I plan to go to school and get a degree while continuing to work part time at Sodexo. I don't know yet what the future has in store for me but I am certain of one thing: I started at the right place and I hope to build a long career here.
Find out more about... a career with Sodexo!
This article was created by Noah Henrick dosSantos, Young Administrative Trainee, Sodexo Brazil