Responding to a Quantum Shift In Work
Explore the challenges that Covid-19 has created for workplaces and how you can adapt to create a productive, empowered and safe workforce.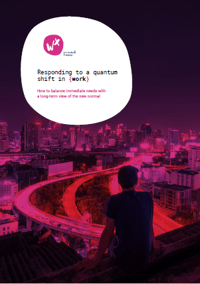 From the workplace design experts at Wx - Sodexo's corp-up -, "Responding to a Quantum Shift in Work" provides a complete overview of the implications of Covid-19 on workplaces. From the biggest questions to short, mid and long-term ways to address them, you'll learn:
Why understanding employee user journeys is more important than ever before
How to optimise workplaces without trying to predict the future
How Wx. blends consultancy, ethnography, IoT and data science to create smarter workplaces
Rising to the challenges of the next normal
At Sodexo, we've been safeguarding, promoting and enhancing Quality of Life for over 50 years. We were made for this moment – supporting our clients as they define a positive next normal.
In this extremely volatile environment, the value of our expertise and services can make the difference in regaining trust. That is why we have developed "rise with Sodexo", a systematic approach to helping our clients resume, adapt and thrive each day.
Our program provides a comprehensive range of essential and innovative services, including Workplace Technology and Consulting by Wx: we provide the consultancy, design and optimisation it takes to move forward with confidence.
Get your copy to see what the quantum shift in work could look like and how we can help you embrace change:
Discover more of our latest innovative solutions… leading-edge solutions